Nestled in the heart of Idaho, the vibrant community of Boise, Treasure Valley is witnessing a remarkable transformation as its residents embrace the power of the sun. Solar energy has emerged as a game-changing solution, helping residents save money and contributing to a greener and more sustainable future. In this blog post, we will delve into the benefits of solar energy in Boise and introduce you to Jesse Simpson, our Division Manager, who is leading the charge in promoting and facilitating the adoption of solar power.
Solar Power Shines Brightly in the Treasure Valley
The Treasure Valley, blessed with abundant sunshine throughout the year, is a prime location for solar energy generation. In recent years, an increasing number of residents have turned to solar power to harness the energy of the sun. The advantages of solar energy make it an attractive option for homeowners and businesses alike, driving the remarkable growth and adoption of solar technology in the region.
Economic Advantages
By harnessing the power of solar energy, Treasure Valley residents can tap into significant economic benefits. Solar panels installed on rooftops or grounds allow homeowners and businesses to generate their own electricity, reducing their reliance on traditional energy sources. This results in substantial savings on monthly utility bills and provides a level of energy cost stability, shielding residents from fluctuating energy prices.
Environmental Benefits
Embracing solar power in the Treasure Valley goes beyond monetary advantages. By choosing clean, renewable solar energy, residents are actively contributing to the reduction of greenhouse gas emissions and combating climate change. Solar power is a sustainable solution that does not deplete natural resources or release harmful pollutants into the air. By adopting solar energy, residents can take pride in being responsible stewards of the environment.
Energy Independence and Resilience
Solar power provides the Treasure Valley residents with a sense of energy independence and resilience. With a solar installation, homeowners and businesses can generate their own electricity, reducing their reliance on the traditional power grid. This not only allows for greater control over energy consumption but also provides a reliable source of electricity during power outages or emergencies. Solar power systems can continue to generate electricity, ensuring that essential appliances and equipment remain operational.
Peace of Mind with Expert Support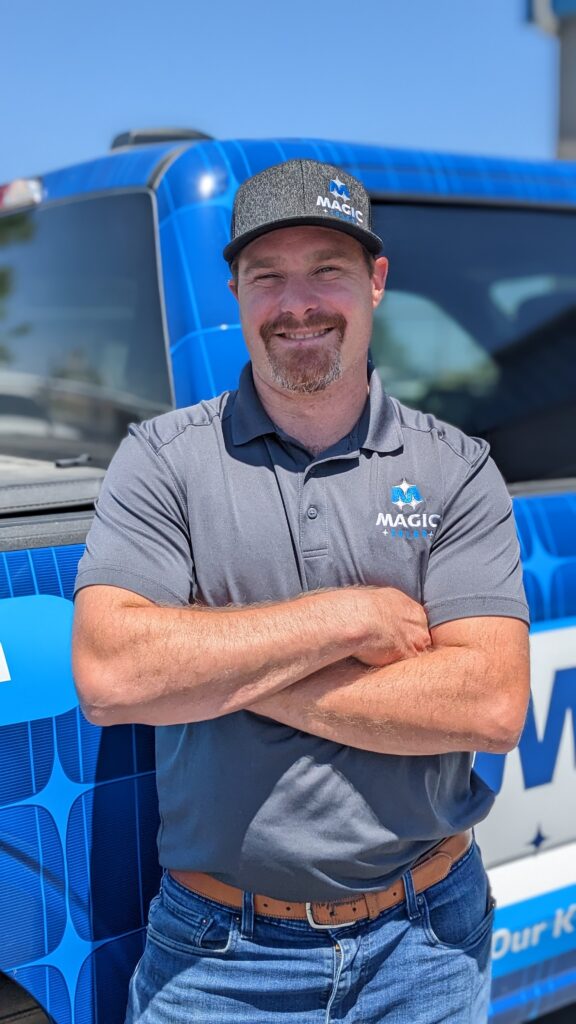 Introducing Jesse Simpson, Magic Solar Division Manager: Leading the solar energy revolution in Boise Idaho and the surrounding Treasure Valley is our manager, Jesse Simpson. With extensive experience in the renewable energy sector, Jesse is passionate about bringing the benefits of solar power to residents and businesses alike. With a deep understanding of solar technology and its potential, Jesse is committed to making solar energy accessible and affordable for the community. Through Jesse's leadership, our team aims to create a sustainable future for solar power in Boise and the surrounding Treasure Valley.
Contact us for a free on-site estimate to learn how to harness solar power too.